About Us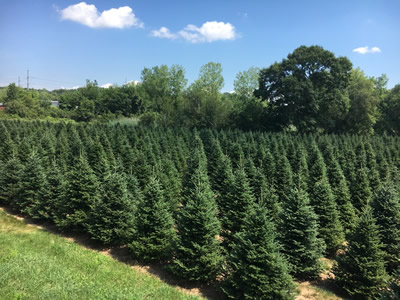 Our Fuller Road farmland has been growing beautiful Christmas trees for over 40 years. We are fortunate to have nutrient rich soil. Kaz is the original tree farmer. My name is Susan and I currently run the Christmas tree growing operation.
Kaz and I began working together over 35 years ago, when we ran a garden center together at the current location. I took over the garden center naming it Mrs. Bunyan's Bloomers, and for many years, enjoyed meeting and serving so many of our neighbors and backyard enthusiasts.
However, the Christmas Trees brought me unimaginable joy. Your cherished Christmas Traditions have brought you back, year after year, where I have watched your families grow. Some of you are die-hard tree taggers!!!! You watch and wait for the first signs of activity in the store, so that you can be one of the first, once we've opened.
So, when I was given the opportunity to take over the Christmas tree growing operation, I knew it was meant to be. Kaz taught me everything I know and for that I'm grateful.
Some years ago, we stopped selling flowers and now just concentrate on getting ready as many possible "perfect" trees for you and your family to choose from. Come meander through row after row of premium Fraser Fir, Concolor Fir, and Canaan Fir. We love growing Fir trees, even though they take a long time – up to 10 years! Fraser, Concolor and Canaan Fir will hold their needles up to 3 months! They are soft, with beautiful dark green and bluish color. We have some new additions, Balsam Fir and Korean Fir.
Paul Bunyan's has expanded, and in 2016, we added a new building that we keep stocked with decorations and wonderful gifts. Each year our inventory changes. Wait until you see all the new items for 2022!
Our staff is friendly and helpful. We say thank you a lot around here and strive to make your visit with us a personal, warm and inviting experience that brings you back another year. Stop by and see us soon. We know you'll be glad you did!
We truly appreciate your business!