Wreaths & So Much More Good Stuff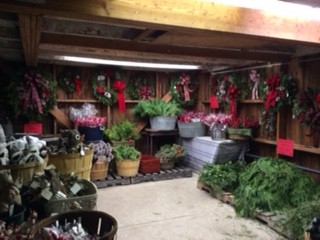 Walking into the back room of our rustic barn is what heaven must smell like! The smell of Fir.That's because our wreaths, swags, garlands, and bundle of greens are so fragrant and fresh.
Choose from 12", 14", 16", 18", 24", 30", 36", and 48" double-sided Balsam wreaths. They are full and dark green in color. Priced reasonably. We even carry fancy wreaths made with west-coast greens.
Paul Bunyan's sells wreaths with a simple bow on them or we can add to them with pine cones, berries, red cardinals, and whatever else you would like us to add. All our decorations hold up all winter long and from season to season.
We also have swags which come in three styles.
Often times we coordinate pieces for our customers – all with the same bow. Perhaps a wreath and a basket filled with greens and decorations for your porch or front door and steps, and a sled for your lamppost or backyard deck. The ideas are endless.
In addition we have a selection of garlands. Pretty and fresh, we sell them by the yard and by the coil. We will cut it to size.
For decorating we have available bundles of boughs. We sell Fraser and Balsam Fir greens, fresh from our farm, as well as Juniper berry, golden Cypress, long-needled Southwestern White Pine, and Arborvitae. Our staff will happily help you with ideas. Pictures of the areas to be decorated are helpful.
Kissing balls made with fresh greens hang all over our front porch. All have a ribbon. Some have waterproof red berries and pine cones added. They stay gorgeous until March. Ask about our artificial but real looking kissing balls as well.
YOU CAN HAVE THE PRETTIEST HOUSE ON THE STREET! COME SEE US. WE LOOK FORWARD TO WORKING WITH YOU.